Drumkilty Oonagh
Born 31/10/2007
Sire - Gatchells Lone Ranger
Dam - Scarholme Echo of Drumkilty
Hip score - 3:3
Elbow score - 0:0
Current clear BVA/KC eye certificates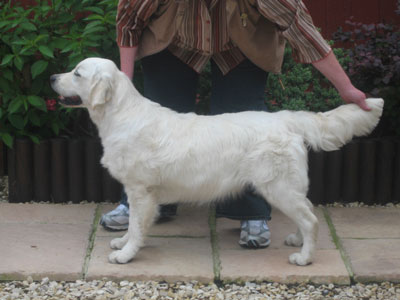 Oonagh aged 6 months
Oonagh is petite, pretty, and looks like butter wouldn't melt but she was actually quite the ringleader whenever there was any trouble! She is sweet and loving, and quite vocal - she likes to "talk" to you and the more excited she gets the louder she is! On her own she is very biddable and obedient, but when out with her mates she goes completely deaf. She also had an obsession with Crombie and hassled her for some reason best known to herself! Crombie was always too polite to tell her off.
Oonagh has done well in the show-ring and I should probably have campaigned her more than I did. She was placed VHC in a strong class at Crufts 2011.
As Oonagh turned 6 in October 2013, and I felt she was unlikely to go further in the showring, when an opportunity arose for her to live with some friends in Dumfries I decided it would be best for everyone.
Oonagh has really landed on her feet. She "trained" her new Mum and Dad that she should sleep in their bedroom, within two nights! Little minx!